SCOTUS
On The Monitor this week:
Former Soldier and current Peace Activist Ellen Barfield on her transformation and the activism of Resisting Drones
Writer, Academic, Activist, and Commentator Yasmin Nair on The Supreme Court same-sex ruling and

"The Secret History of Gay Marriage"



More about this week's guests:
Ellen Barfield grew up in Texas. Like so many, she joined the Army to get the money to
finish college. While in the army she was stationed in Germany and Korea. She served in the U.S. Army from 1977-1981. She has been a full-time peace and justice activist for nearly thirty years. In addition to being on the board of the War Resisters League, Ellen is the coordinator of the Veterans for Peace Baltimore Phil Berrigan Memorial Chapter, and works on national committees of VFP, Women's International League for Peace and Freedom (WILPF) and School of the Americas Watch.
Since 2010 Hancock has been the home of the 174th Attack Wing of the NY National Guard – an MQ9 Reaper drone hub piloting weaponized drones 24/7 over Afghanistan and likely elsewhere. Also since 2010 Hancock has been the scene of twice-monthly anti-drone demonstrations outside its main gate as well as occasional larger demonstrations and scrupulously nonviolent civil resistance organized by Upstate Drone Action, a grassroots coalition. These have led to over 160 arrests, and numerous trials in DeWitt as well as $375 fines, Orders of Protection, and numerous incarcerations. Read more about anti-drone actions www.upstatedroneaction.org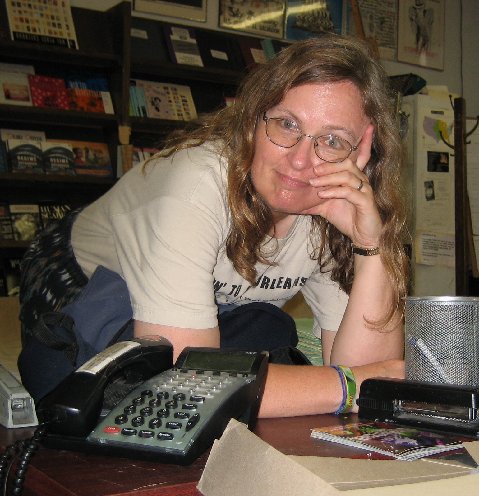 Ellen Barfield was  among 31 arrested in the driveway to Hancock's main gate on East Molloy Rd on April 28, 2013 for "dieing-in" with bloody shrouds or for attempting to read aloud to the military personnel behind Hancock's barbed wire fence a list of children killed by U.S. drones. The activists said they sought to "prick the conscience" of base personnel and the chain of command responsible for the war crime originating there.
On June 27th, after deliberating a couple hours, a six-person jury found four of those arrested, including Ellen, not guilty of obstructing government administration (OGA) at Hancock Air Base near Syracuse, New York, but guilty of trespass, a violation carrying a maximum 15-day imprisonment.
Yasmin Nair is a co-founder and member of the editorial collective  Against Equality; she contributed essays on gay marriage, hate crime legislation, and Don't Ask, Don't Tell to their book, Against Equality: Queer Revolution, Not Mere Inclusion. She is also a member of the Chicago grassroots organisation Gender JUST (Justice United for Societal Transformation) and serves as its Policy Director (a volunteer position).  Nair was, from 1999-2003, a member of the now-defunct Queer to the Left.  Her activist work includes gentrification, immigration, public education, and youth at risk. Her recent article is called "The Secret History of Gay Marriage"
Yasmin Nair's writing and organizing focuses on neoliberalism and inequality, queer politics and theory, the politics of rescue and affect, sex trafficking, the art world, and the immigration crisis.  You can read her work in various anthologies and journals, including Captive Genders: Trans Embodiment and the Prison Industrial Complex, Singlism: What It Is, Why It Matters and How to Stop It, Windy City Queer: Dispatches from the Third Coast, Arab Studies Quarterly and Gay Press, Gay Power: The Growth of LGBT Community Newspapers in America.