Race
On The Monitor this week:
More about this week's guests:
Frederick Clarkson is senior fellow at Political Research Associates, a progressive think tank in Somerville, Massachusetts. He is also the author of the 2016 report "When Exemption is the Rule: The Religious Freedom Strategy of the Christian Right" and wrote the book Eternal Hostility: The Struggle Between Theocracy and Democracy. You can also read some of his recent work here. Quote: "Roy Moore is the most openly theocratic politician in national life — and he has a good chance of being the next U.S. Senator from Alabama. The special election to fill the remainder of the term of Jeff Sessions, who was appointed as U.S. Attorney General by president Trump, will be held on Dec. 12. Moore is heavily favored to prevail over Democrat and former federal prosecutor Doug Jones. Moore favors criminalizing abortion and homosexuality. He does not respect the authority of the U.S. Supreme Court to interpret the Constitution, and the federal courts to enforce civil rights laws. His views hark back to the time of massive resistance to civil rights for African Americans, when opponents invoked the notions of nullification and interposition — which basically meant that states could ignore federal actions; including court orders they believed were inconsistent with the Constitution. Like the nullificationists of the last century, Moore does not view the rulings of the U.S. Supreme Court and the federal courts as binding on the states. Particularly if they conflict with his idiosyncratic view of what God requires. Roy Moore epitomizes the contemporary politics of theocratic Christian dominionism in his attacks on separation of church and state and religious freedom. Moore was twice elected on a statewide ballot as Chief Justice of the Alabama Supreme Court. He has also been removed from office each time because he violated orders from a federal judge. The first time, he had installed a two-and-a-half-ton monument to the Ten Commandments in the foyer of the state courthouse. A federal judge ruled that this was an unambiguous violation of separation of church and state and ordered it removed. Moore refused. The second time, he sought to undermine a federal court order to state officials to honor the Supreme Court's 2015 stand for marriage equality in the case of Obergefell v Hodges. Moore sought to direct state probate judges not to issue same sex marriage licenses, claiming that existing state bans on same sex marriage were still in force."
Sebastiaan Faber is a professor of Hispanic Studies at Oberlin College and author of several books, including Alcalá de Henares: Instituto Franklin de Estudios Norteamericanos; Anglo-American Hispanists and the Spanish Civil War: Hispanophilia, Commitment, and Discipline; Exile and Cultural Hegemony: Spanish Intellectuals in Mexico (1939-1975) and the forthcoming Memory Battles and the Spanish Civil War. He just co-wrote "Have Spain and Catalonia Reached a Point of No Return?"  for The Nation. Quote: "While the repressive measures taken so far have certainly made a region-wide vote more difficult, the Catalans refuse to give up. In a nationally televised interview aired on Sept. 24, Catalan President Puigdemont vowed to go ahead with the referendum [this Sunday]. Meanwhile, the arrests of Sept. 20 have prompted massive, ongoing demonstrations in Barcelona and elsewhere."
On The Monitor this week:
Race, War, Ethics, and the American Political Landscape with Wilmer J. Leon
What "Humanitarian Intervention" has actually meant in practice with David Gibbs
More about this week's guests:
Wilmer J. Leon III, Ph.D. is a Political Scientist whose primary areas of expertise are Black Politics, American Government, and Public Policy.  For 11 years he was a Lecturer/Teaching Associate in the Political Science Department at Howard University in Washington, D.C. Currently, Dr. Leon is a nationally broadcast radio talk show host on SiriusXM Satellite radio channel 126, nationally syndicated columnist, and regular political commentator on national and international news programs.
Dr. Leon earned a BS degree in Political Science from Hampton Institute, a Masters in Public Administration (MPA) from Howard University, and a Ph.D. in Political Science from Howard University. He was a contributing author to Democratic Destiny and the District of Columbia (Lexington Books, 2010). His latest book is "Politics another Perspective: Commentary and Analysis on Race, War, Ethics, and the American Political Landscape. 2016 Author House.
Dr. Leon is a regular contributor to TruthOut.org, The Root.com, Politics In Color.com, BlackStar News.com, Black Agenda Report, Black Politics on the Web, and over 200 newspapers and other web sites across the country.  He can also be seen as a regular contributor and analyst on TV-One's News On Now with Roland Martin, Press-TV and RT TV.
A serious void exists in the public discourse relating to the issues that directly and/or disproportionately impact the African-American community. Dr. Leon discusses issues such as the prison industrial complex, environmental racism, school vouchers, health care, crime policy, economic globalization, American domestic and foreign policy from as much of a non-biased and academically accurate perspective as possible.  Dr. Leon's perspective and lectures are grounded in the history of the African American community and the radical tradition of African American scholarship.
David N. Gibbs

 is professor of history at the University of Arizona, who specializes in international relations and military intervention. His most recent book is First Do No Harm: Humanitarian Intervention and the Destruction of Yugoslavia from Vanderbilt University Press.
Quote: "U.S. policy is embarking on a reckless course, one that is unlikely to produce any positive results, either in terms of enhancing U.S. security or alleviating human suffering. Even if the policy is successful, regime change in Syria would only increase the ongoing chaos and humanitarian catastrophe, as the multiple rebel groups turn on each other. In general, the history of U.S. efforts at overthrowing dictators in such cases as Afghanistan, Iraq, and Libya has led to instability and many years of civil war, as well as new terrorist threats against the West. There is no reason to believe the situation in Syria would be any different. In addition, military interventions in Syria are sure to worsen U.S. relations with Russia, and will thus increase the risk of nuclear war."
Recent Articles:
This week's show is a little different. It is a mix of audio clips edited together featuring: part of "Hypernormlization" by Adam Curtis, the voice of Carl Sagan, JFK's "Peace" speech, a clip from "Mississippi Burning" and Charley Chaplin's speech in "The Dictator". I hope you enjoy the journey.
KPFT is in Pledge Drive and this is your final chance to support The Monitor. The show has a goal of $650 for the hour. Please call 713.526.5738 during the show to pledge your support. You can also donate securely online at https://pledge.kpft.org/ Just select The Monitor from the list of shows and enter your details. Thank you!
This week we feature an interview with Mark Karlin during which we will discuss some of his recent articles and the importance of independent media.
More about this week's guest:
Mark Karlin is the editor of BuzzFlash at Truthout. He served as editor and publisher of BuzzFlash for 10 years before joining Truthout in 2010. BuzzFlash has won four Project Censored Awards. Karlin writes a commentary five days a week for BuzzFlash, as well as articles (ranging from the failed "war on drugs" to reviews relating to political art) for Truthout. He also interviews authors and filmmakers whose works are featured in Truthout's Progressive Picks of the Week. Before linking with Truthout, Karlin conducted interviews with cultural figures, political progressives and innovative advocates on a weekly basis for 10 years. He authored many columns about the lies propagated to launch the Iraq War.
Some of his recent articles:
Thomas Frank: Bill Clinton's Five Major Achievements Were Longstanding GOP Objectives
Co-Chair of 9/11 Task Force Wants Secret Saudi Involvement Document Released
Terrorism Is Profitable for US Weapons Manufacturers
Donald Trump Claims He Didn't Know His Former Butler for Many Years and Current Pal Is a Rabid Racist, Misogynist and Islamophobic in the Most Vulgar Way
Thank you gifts!
You can still get a copy of Peter Van Buren's We Meant Well: How I
Helped Lose the Battle for the Hearts and Minds of the Iraqi People by pledging $60 or more to support KPFT and The Monitor.
We also still have copies of Nation on the Take by Wendell Potter and Nick Penniman as a
thank you gift for your donation of $90 or more. This book exposes legalized corruption and links it to kitchen-table issues. We spoke to Wendell on the April 25th show so take a list to that for a preview of the book
On The Monitor this week:
The Confederacy and the Confederate Flag – a short history lesson with Jim Loewen
Race Class and Violence in America – The South Carolina shootings in a wider context with Kevin Alexander Gray
More about this week's guests: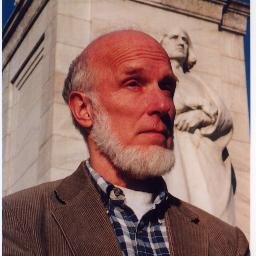 Jim Loewen taught race relations for twenty years at the University of Vermont. He is the author of many books, including The Confederate and Neo-Confederate Reader: The "Great Truth" about the "Lost Cause"; Sundown Towns: A Hidden Dimension of American Racism and Lies My Teacher Told Me: Everything Your High School History Textbook Got Wrong and Lies Across America: What Our Historic Sites Get Wrong. We will talk with him about the impact of myths of the Confederate past on the present and how those myths are part of the environment of places like South Carolina.
Selected quotes from The Confederate and Neo-Confederate Reader: "At its best, history embodies the triumph of evidence over ideology. Textbooks do not embody history at its best."
"There is a reciprocal relationship between truth about the past and justice in the present."
"Gradually, four key elements of neo-Confederate mythology emerged during the Nadir. First, slavery was good, and slaves liked it. (This was a throwback to arguments made in 1850.) Nevertheless, ending slavery was also good, because slavery was a burden on white planters. Second, the South seceded for states' rights, or perhaps over tariffs and taxes, not for slavery. Third, during the "War Between the States," Confederates displayed bravery and stainless conduct. They only lost owing to the brute size of the North. Conversely, slaves displayed loyalty to their "masters" during the war. Finally, and most important, during Reconstruction, vindictive Northern congressmen, childlike African Americans, and corrupt carpetbaggers and scalawags ravaged the prostrate South."
Also read: Five myths about why the South seceded
Kevin Alexander Gray
is based in South Carolina.His books include co-editing Killing Trayvons: An Anthology of American Violence. and The Decline of Black Politics: From Malcolm X to Barack Obama. He posted the following on his Facebook page: "Some tried to chide me on issuing a call of sorts to white people about the environment that creates a Dylann Roof. Well, the Confederate flag, a flag of white supremacy flies on the South Carolina Statehouse grounds along with a statute of white supremacist 'Pitchfolk' Ben Tillman. Countless streets and buildings are named after Confederate heroes. The president of the College of Charleston routinely dresses up as a Confederate general and fights mock battles. And this is the same man who blocked putting a statute of Denmark Vesey on the Statehouse grounds calling him a murderer of white people. This is where we live and what is ingrained everyday in our psyche without apology. I'm against white supremacy and I apologize to nobody for being against it."
Gray and his younger sister Valerie were among the first blacks to attend the local all-white elementary school in 1968.  Since then he has been involved in community organizing working on a variety of issues ranging from racial politics, police violence, third-world politics, race relations, union organizing, workers' rights, grassroots political campaigns, marches, actions, political events. Gray is currently organizing the Harriet Tubman Freedom House Project which focuses on community based political and cultural education.
Related Articles:
American Violence at the Intersection of Race & Class
On The Monitor this week:
In the wake of recent coverage of the multiple shooting deaths of mostly black males by mostly white police officers, we discuss Race Relations and Policing with Tim Wise
The media coverage of North Korea as a threat has missed that the country may be responding to being threatened. We discuss the recent coverage of North Korea framed by the release of the movie The Interview with Christine Hong
More about this week's guests:
Tim Wise
Tim Wise is the author of six books, including his highly-acclaimed memoir, White Like Me: Reflections on Race from a Privileged Son, as well as Dear White America: Letter to a New Minority, and Colorblind: The Rise of Post-Racial Politics and the Retreat from Racial Equity. His next book, Culture of Cruelty: How America's Elite Demonize the Poor, Valorize the Rich and Jeopardize the Future, will be released in early 2015. He has contributed chapters or essays to over 25 additional books and his writings are taught in colleges and universities across the nation. His essays have appeared on Alternet, Salon, Huffington Post, Counterpunch, The Root, Black Commentator, BK Nation and Z Magazine among others.
Tim Wise, whom scholar and philosopher Cornel West calls, "A vanilla brother in the tradition of (abolitionist) John Brown," is among the nation's most prominent antiracist essayists and educators. He has spent the past 20 years speaking to audiences in all 50 states, on over 1000 college and high school campuses, at hundreds of professional and academic conferences, and to community groups across the nation. He has also lectured internationally, in Canada and Bermuda, and has trained corporate, government, law enforcement and medical industry professionals on methods for dismantling racism in their institutions.
Wise has been featured in several documentaries, including "White Like Me: Race, Racism and White Privilege in America" (from the Media Education Foundation), which has been called "A phenomenal educational tool in the struggle against racism," and "One of the best films made on the unfinished quest for racial justice," by Eduardo Bonilla-Silva of Duke University, and Robert Jensen of the University of Texas, respectively. He also appeared alongside legendary scholar and activist, Angela Davis, in the 2011 documentary, "Vocabulary of Change." In this public dialogue between the two activists, Davis and Wise discussed the connections between issues of race, class, gender, sexuality and militarism, as well as inter-generational movement building and the prospects for social change.
Christine Hong
Christine Hong is an assistant professor of literature at UC Santa Cruz and an executive board member of the Korea Policy Institute (http://kpolicy.org/). She is co-editor with Hazel Smith of the Critical Asian Studies double issue on "Reframing North Korean Human Rights" (45:4 (2013) and 46:1 (2014). Hong recently co-wrote "Stranger than Fiction: The Interview and U.S. Regime-Change Policy Toward North Korea"
Quote: "Representations of North Korea as a buffoon, a menace, or both on the American big screen are at least as old and arguably as tired as the George W. Bush-era phrase, "the axis of evil." Along with the figure of the Muslim "terrorist," hackneyed Hollywood constructions of the "ronery" or diabolical Dr. Evil-like North Korean leader bent on world domination, the sinister race-bending North Korean spy, the robotic North Korean commando, and other post-Cold War Red/Yellow Peril bogeymen have functioned as go-to enemies for the commercial film industry's geopolitical and racist fantasies. Explaining why the North Korean leader was the default choice for the villain in his 2014 regime-change comedy, The Interview, Seth Rogen has stated, "It's not that controversial to label [North Korea] as bad. It's as bad as it could be." Indeed, one-dimensional caricatures of North Korea flourish in the Western media in no small part because "[w]acky dictators sell." Yet when it comes to Hollywood's North Korean regime-change narratives, the line between fact and fiction, not to mention the distinction between freedom of expression and government propaganda, is revealingly thin. Whether in Hollywood or Washington, the only permissible narrative for North Korea is what Donald Macintyre, former Seoul bureau chief for Time magazine, has called "the demonization script." Not only have the dream machines of the entertainment industry long played an instrumental role within American theaters of war, but also, U.S. officials and political commentators often marshal the language of entertainment—for example, the description of U.S.-South Korea combined military exercises as "war games" and the Obama administration's references to the Pentagon's "playbook" with regard to North Korea—when describing U.S. military maneuvers on and around the Korean peninsula…Claiming to have done conducted "a lot" of research on North Korea, Seth Rogen has insisted that The Interview holds up a mirror to North Korea's reality: "We didn't make up anything. It's all real." His conclusion about North Korea after conducting exhaustive research? "It was f–king weird." Yet, even as the curtains go up in movie theaters across the United States for The Interview, the centrality of the North Korean demon to Obama's pivot policy within Asia and the Pacific, itself a historic theater of U.S. war, may prove to be far stranger than fiction.