Gun Control
On The Monitor this week:
D. Brian Burghart on creating an impartial, comprehensive and searchable national database of people killed during interactions with law enforcement
Jeff Cohen on why presidential debates should be opened up to all candidates
More about this week's guests:
D. Brian Burghart is the creator of Fatal Encounters. He is a former editor/publisher of the Reno News & Review, a master's student and often, although not at this moment, a journalism instructor at the University of Nevada, Reno. He lives in Reno, Nevada and created Fatal Encounters because, as he says: "I believe in a democracy, citizens should be able to figure out how many people are killed by law enforcement, why they were killed, and whether training and policies can be modified to decrease the number of officer-involved deaths."
Jeff Cohen is the director of the Park Center for Independent Media at Ithaca College and author of Cable News Confidential: My Misadventures in Corporate Media. He is also is cofounder of RootsAction.org, founder of the media watch group FAIR.
He recently wrote the piece "TV Networks Should Open Up the Presidential Debates," which states: "If ten major TV networks got together and decided to nationally televise a presidential debate restricted to Republican nominee Donald Trump and right-leaning Libertarian nominee Gary Johnson, while barring other candidates including Democrat Hillary Clinton, it would be recognized as an act of media bias or exclusion. But what if the televised debates this fall are restricted to just Trump and Clinton? That, too, needs to be recognized as an intentional act of media exclusion.
Beginning in 1988, major TV networks granted journalistic control over the debates to a private organization with no official status: the Commission on Presidential Debates. The CPD is often called 'nonpartisan.' That's absurdly inaccurate. 'Bipartisan' is the right adjective, as it has always carried out the joint will of the Republican and Democratic parties. The commission grew out of a deal cut in the 1980s by GOP and Democratic leaders. Today, even though the U.S. public largely distrusts the presidential candidates of the two major parties, TV networks seem willing to allow them to again dictate the terms of debate, including who gets to participate."
On The Monitor this week is an extended interview with Barry Lando in which we discuss the terror attacks in Paris and Orlando in a broader context of history, international events, media coverage, and the relationship between government and media. This is the kind of exchange this show is known for – a freeform conversation about an important topic that moves beyond the media's norm of decontextualized sound-bytes and ahistorical sensationalism.
More about this week's guest:
Barry Lando was a producer for 60 Minutes for over 25 years, most of those producing stories for Mike Wallace. Lando produced the first interview with the Ayatollah Khomeini after the 1979 Iran hostage crisis, which aired 14 days after the hostages were captured. Another famous story he produced was on the 1990 Temple Mount riots. Wallace said of Lando and another producer, "if it wasn't for [Marion Goldin] and Barry there would be no 60 Minutes."
Lando pioneered the use of hidden cameras for investigative television reporting. He was awarded a George Polk award for Television Reporting in 1977. Lando and Wallace won a Robert F. Kennedy Journalism award in 1990 for the segment "40,000 a Day." Lando also won two Emmys at 60 Minutes.
In 2004, Lando collaborated with Michel Despratx to produce a documentary for Canal+ called "Saddam Hussein, the Trial the World Will Never See." Lando's 2007 book, Web of Deceit: The History of Western Complicity in Iraq, From Churchill to Kennedy to George W. Bush, covered 85 years of Western intervention in Iraq. Lando has written for The Atlantic, the Los Angeles Times, the Christian Science Monitor, the International Herald Tribune, and Le Monde. 
His most recent book is The Watchman's File. You can read excerpts of that book here. During the interview, specific reference is made to Barry's recent article TERRORISM: PARIS & ORLANDO-AN EXISTENTIAL CRISIS
You can follow Barry Lando on Twitter
On The Monitor this week:
More about this week's guests:
Robert Parry broke many of the Iran-Contra stories in the 1980s for the Associated Press and Newsweek. He is the founding editor of Consortium News (founded in 1995) as the Internet's first investigative magazine. He saw it as a way to combine modern technology and old-fashioned journalism to counter the increasing triviality of the mainstream U.S. news media. Robert's best known stories about Psychological Operations in Guerrilla Warfare (CIA manual provided to the Nicaraguan contras) and the CIA and Contras cocaine trafficking in the US scandal in 1985 continue to be very important and you should read them NOW if you have not already done so. He was awarded the George Polk Award for National Reporting in 1984. He has written six books:
Lost History: Contras, Cocaine, The Press & Project Truth (1992)
Trick or Treason: The October Surprise Mystery (1993)
The October Surprise X-Files: The Hidden Origins of the Reagan-Bush Era (1996)
Secrecy & Privilege: Rise of the Bush Dynasty from Watergate to Iraq (2004)
Neck Deep: The Disastrous Presidency of George W. Bush (2007)
America's Stolen Narrative: From Washington and Madison to Nixon, Reagan and the Bushes to Obama (2012)
Najam Haider, an Assistant Professor in the Department of Religion, completed his PhD at Princeton University (2007), M.Phil. at Oxford University (2000), and BA at Dartmouth College (1997).  His courses bridge the gap between the classical and modern Muslim worlds with a particular emphasis on the impact of colonization on Islamic political and religious discourse.  Prof. Haider's research interests include early Islamic history, the methodology and development of Islamic law, and Shi'ism.  His first book entitled The Origins of the Shi'a was published by Cambridge University Press in 2011 and focused on the role of ritual and sacred space in the formation of Shī'ī identity.  His second book (Shī'ī Islam – Cambridge 2014) offered a comprehensive overview of three branches of Shī'ī Islam – Zaydī, Twelver, and Ismā'īlī – through a framework of theology and memory.  His current project focuses on the link between early Islamic historical writing and Late Antique and Classical Rhetoric.
Website:
Select Publications:
Shī'ī Islam: An Introduction (Cambridge 2014)
Law and Religion in Classical Islamic Thought, eds. Michael Cook, Najam Haider, Intisar Rabb, Asma Sayeed (Palgrave: 2013).
"The Geography of the Isnād: Possibilities for the Reconstruction of Local Ritual Practice in the 2nd/8th Century," Der Islam 90 (2013):306-346.
"A Kufan Jurist in Yemen: Contextualizing Muhammad b. Sulayman al-Kufī's Kitāb al-Mutakhab," Arabica 59 (2012): 200-17
The Origins of the Shi'a: Identity, Ritual, and Sacred Space in 8th century Kufa (Cambridge 2011)
On The Monitor this week we take an extended look at the background of the terror attacks in Paris. What are the historical connections are future implications? Our first interview is withJ. Michael Springman and our second is with Christian Parenti.
More about this week's guests:
J. Michael Springmann was a career official with both the Commerce and State departments. He was economic/commercial officer in Stuttgart (1977–1980), a commercial attaché in New Delhi (1980–1982), a visa officer in Jeddah (1987–1989), a political/economic officer in Stuttgart (1989–1991), and, finally, an economic analyst at the State Department's Bureau of Intelligence and Research (1991). He recently published the book Visas for Al Qaeda: CIA Handouts That Rocked The World.
Quote: "During the 1980s, the CIA recruited and trained Muslim operatives to fight the Soviet invasion of Afghanistan. Later, the CIA would move those operatives from Afghanistan to the Balkans, and then to Iraq, Libya, and Syria, traveling on illegal US visas. These US-backed and trained fighters would morph into an organization that is synonymous with jihadist terrorism: al-Qaeda."
From the book description:
"Thousands of American soldiers and civil servants have lost their lives in the War on Terror. Innocent citizens of many nations, including Americans killed on 9/11, have also paid the ultimate price. While the US government claims to stand against terror, this same government refuses to acknowledge its role in creating what has become a deadly international quagmire. Visas for al-Qaeda: CIA Handouts That Rocked the World sets the record straight by laying the blame on high-ranking US government officials.
During the 1980s, the CIA recruited and trained Muslim operatives to fight the Soviet invasion of Afghanistan. Later, the CIA would move those operatives from Afghanistan to the Balkans, and then to Iraq, Libya, and Syria, traveling on illegal US visas. These US-backed and trained fighters would morph into an organization that is synonymous with jihadist terrorism: al-Qaeda.
 Christian Parenti is author of Tropic of Chaos: Climate Change and the New Geography of Violence. He is a professor in the Global Liberal Studies Program at New York University
Quote: "The growing crisis of war and state breakdown in the Middle East is partially driven by climate change. We have to deal with climate change — that is, drastically reduce greenhouse gas emissions — or face escalating chaos. Parenti is professor in the global liberal studies program at New York University. He has reported from conflict zones in the Middle East and studies the history of political violence. He said U.S. policies "have repeatedly created failed states" in countries including Afghanistan, Iraq, and Libya. "Trying to overthrow [Syrian leader Bashar] Assad is a very bad idea. Assad is admittedly a dictator who inherited a state from his father but he is doing more than anyone to fight ISIS. Seeking his violent overthrow, as has been U.S. policy, is to court further disaster and a wider swath of misery."
    In an interview published earlier this year, "
Climate Change, Militarism, Neoliberalism and the State
," Parenti stated: "Syria is a prime example. There has been a terrible drought there, which coincided with austerity measures imposed by the Assad government cutting aid to Sunni farmers. Many of them were forced to leave the land, partly due to drought, partly due to the lack of support to properly deal with the drought. Then, they arrive in cities, and there's more austerity taking place. This is experienced as oppression by the Alawite elite against an increasingly impoverished Sunni proletariat who've been thrown off their land.
"This situation then explodes as religious conflict, which is really the fusion of environmental crises with neoliberal economic policies. Of course, the violent spark to all of this is the fact that the entire region is flooded with weapons. Some of these weapons are from the Cold War, and some of those guns are from recent U.S. militarism in the region. There were a lot of vets of the anti-U.S. struggle in Iraq who are Syrian — Mujahideen veterans who went to Iraq and came back to Syria and started to fight. There were Syrians who were selling guns to Iraqi underground groups. These groups were buying their guns back, and re-importing them to Syria."
On The Monitor this week:
The Confederacy and the Confederate Flag – a short history lesson with Jim Loewen
Race Class and Violence in America – The South Carolina shootings in a wider context with Kevin Alexander Gray
More about this week's guests: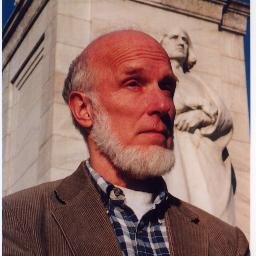 Jim Loewen taught race relations for twenty years at the University of Vermont. He is the author of many books, including The Confederate and Neo-Confederate Reader: The "Great Truth" about the "Lost Cause"; Sundown Towns: A Hidden Dimension of American Racism and Lies My Teacher Told Me: Everything Your High School History Textbook Got Wrong and Lies Across America: What Our Historic Sites Get Wrong. We will talk with him about the impact of myths of the Confederate past on the present and how those myths are part of the environment of places like South Carolina.
Selected quotes from The Confederate and Neo-Confederate Reader: "At its best, history embodies the triumph of evidence over ideology. Textbooks do not embody history at its best."
"There is a reciprocal relationship between truth about the past and justice in the present."
"Gradually, four key elements of neo-Confederate mythology emerged during the Nadir. First, slavery was good, and slaves liked it. (This was a throwback to arguments made in 1850.) Nevertheless, ending slavery was also good, because slavery was a burden on white planters. Second, the South seceded for states' rights, or perhaps over tariffs and taxes, not for slavery. Third, during the "War Between the States," Confederates displayed bravery and stainless conduct. They only lost owing to the brute size of the North. Conversely, slaves displayed loyalty to their "masters" during the war. Finally, and most important, during Reconstruction, vindictive Northern congressmen, childlike African Americans, and corrupt carpetbaggers and scalawags ravaged the prostrate South."
Also read: Five myths about why the South seceded
Kevin Alexander Gray
is based in South Carolina.His books include co-editing Killing Trayvons: An Anthology of American Violence. and The Decline of Black Politics: From Malcolm X to Barack Obama. He posted the following on his Facebook page: "Some tried to chide me on issuing a call of sorts to white people about the environment that creates a Dylann Roof. Well, the Confederate flag, a flag of white supremacy flies on the South Carolina Statehouse grounds along with a statute of white supremacist 'Pitchfolk' Ben Tillman. Countless streets and buildings are named after Confederate heroes. The president of the College of Charleston routinely dresses up as a Confederate general and fights mock battles. And this is the same man who blocked putting a statute of Denmark Vesey on the Statehouse grounds calling him a murderer of white people. This is where we live and what is ingrained everyday in our psyche without apology. I'm against white supremacy and I apologize to nobody for being against it."
Gray and his younger sister Valerie were among the first blacks to attend the local all-white elementary school in 1968.  Since then he has been involved in community organizing working on a variety of issues ranging from racial politics, police violence, third-world politics, race relations, union organizing, workers' rights, grassroots political campaigns, marches, actions, political events. Gray is currently organizing the Harriet Tubman Freedom House Project which focuses on community based political and cultural education.
Related Articles:
American Violence at the Intersection of Race & Class
The theme of this week's show: Guns and Media
RootsAction.org and Just Foreign Policy have launched a campaign targeting NBC's new program, "Stars Earn Stripes," a reality show co-hosted by retired U.S. General Wesley Clark and co-starring Todd Palin, which the network is advertising during the Olympics. We discuss this with David Swanson
Another mass shooting, this time in Wisconsin, has people wondering what can be done about gun violence, the gun lobby and the debate about second amendment protections. We discuss this with Ladd Everitt
More about this week's guests:
David Swanson
David Swanson holds a master's degree in philosophy from the University of Virginia. He has worked as a newspaper reporter and as a communications director, with jobs including press secretary for Dennis Kucinich's 2004 presidential campaign, media coordinator for the International Labor Communications Association, and three years as communications coordinator for ACORN, the Association of Community Organizations for Reform Now.
He blogs at http://davidswanson.org and http://warisacrime.org and works as Campaign Coordinator for the online activist organization http://rootsaction.org
In April 2012, Swanson began working for Veterans For Peace. Swanson hosts Talk Nation Radio.
Quote: "NBC is marketing its new show during the Olympics as the next big sport, featuring former Olympic athletes, but the sport is war, with — so they tell us — real bullets, real explosives, and real danger. If NBC is really risking blowing off the head or arm or leg of Sarah Palin's husband and the other stars, then we've regressed to ancient Rome. Bread and circuses are now Big Macs and NBC war-o-tainment shows. I suspect and hope that in fact NBC is not putting these people at risk and nobody is going to die on Stars Earn Stripes (note, link does not take you to the NBC show page). And I am certain that the 95 percent of casualties in U.S. wars who rarely get mentioned on any NBC program, namely the non-Americans, will not be featured. We will not see children and grandparents blown to pieces. We will not see cluster bombs picked up as toys. We may see doors kicked in, but not the screaming terrified families behind them. NBC is sanitizing and normalizing war as a sport. Gone is any concept of war as an emergency, any notion of war time as separate from peace time. We are into permanent war, and war for its own sake."
—————————————————————————————
Ladd Everitt
Ladd Everitt is the Director of Communications of Coalition to Stop Gun Violence. He has served as the Director of Communications of the Coalition to Stop Gun Violence since May 2006.  In this position, he is responsible for developing and managing a wide range of communications activities in support of the organization's overall mission.
Mr. Everitt has served in a volunteer capacity with the D.C. Crisis Response Team, a group which offers comfort, support and referral services to victims and survivors of homicide in the District of Columbia. From 2002-2007, he served as the volunteer President of the D.C. Chapter of the Million Mom March. Under his direction, the chapter conducted events for victims and survivors of gun violence, published letters and editorials in local and national periodicals, participated in press conferences and demonstrations calling for sensible gun laws, networked with other community groups who are interested in stemming the tide of gun violence, and authored a comprehensive resource book for victims and survivors, which was used by the Metropolitan Police Department.
Ladd relocated to the District of Columbia from New York in September of 1993 to pursue a Masters degree in U.S. Foreign Policy at American University.  After completing his degree, he worked as a Research Associate with the U.S.‑Saudi Arabian Business Council in Washington, DC, and as a Chief of Policy Development for the Air Force Association in Arlington, Virginia.
A statement from Coalition to Stop Gun Violence issued in the wake of the incident in Colorado read in part: "Reports indicate that the shooter, 24-year-old James Holmes wore body armor and was armed with two Glock handguns, a tactical shotgun, and an AR-15 style assault rifle. He also released some type of chemical gas into the theater during the massacre. Twelve fatalities have been reported so far, with approximately 38 moviegoers injured, including 16 critically.  "Sadly, there is nothing novel about this tragedy. It is yet another massacre perpetuated by a homicidal maniac who was given easy access to lethal, military-style firepower.     "The pro-gun movement has told us that bloodbaths like Aurora are the price we must pay to guarantee freedom and individual liberty in the United States. Rational Americans should reject such radical ideology and demand immediate reform of our gun laws.  "The truth is that there is no greater threat to 'life, liberty and the pursuit of happiness' than the wanton gun violence that continues to destroy American families and communities. Until our legislators stand up to the extreme leadership of the National Rifle Association and enact laws to assure the thorough screening of gun buyers, tragedies like Aurora will continue to haunt America. It is long past time to put public safety back on the agenda in the U.S. Congress, and in our state legislatures."
The  Coalition to Stop Gun Violence has also released a statement about the shooting in Wisconsin. You can read it here.